White Round Freshwater Cultured Pearl Bracelet Silver 7.5" (7.5-8.0mm)
White Round Freshwater Cultured Pearl Bracelet Silver 7.5" (7.5-8.0mm)
Product Description
HinsonGayle's simply stunning AAA Handpicked 7.5-8.0mm White Round pearl bracelets are crafted from the highest quality cultured freshwater pearls available in the world. We meticulously hand select and match the pearls for each strand from literally 10,000s of undrilled earring quality pearls, the rarest and most beautiful freshwater pearls available. The pearls have exceptionally smooth surfaces and a beautiful body color with desirable overtones, mirror-like luster, and hints of the rarest of pearl value characteristics known as surface iridescence or orient. Our premium freshwater pearls are 100% solid nacre pearls. The pearls are individually hand knotted on fine Japanese thread and the approximately 7.5" bracelet is finished with a premium handpolished sterling silver double-safety clasp.

Accessorize this bracelet with one of our pearl necklaces (design FN2WH075-S18), or make a complete pearl ensemble by pairing it with one of our pearl necklace and earring sets (design FS2WH075-S18).
Thank You Gift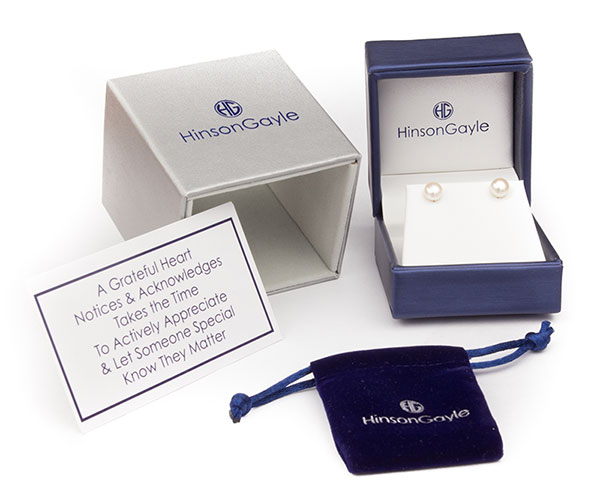 At HinsonGayle, we make an effort to genuinely recognize our customers, and promote a culture of gratitude. With the purchase of $100 or more, please accept these versatile 6-7mm white button stud earrings as a symbol of our appreciation.

And while it's more than OK to keep them for yourself, consider spreading the feeling of gratitude and use them to say "thank you" to someone in your life. Whether it's an acquaintance or loved one, our Gratitude Pearls are the perfect way to pay it forward and share the journey.
These reasonably priced 6-7mm beauties complete any look.
Round on the front and flatter on the sides, our White Pearl Button Studs add a touch of class to any occasion. The 6.0-7mm size is slightly smaller than our standard size 7.5-8.0mm, for a more delicate touch and versatile wear. Our button studs are high-luster and handcrafted with premium tarnish-resistant solid 925 sterling silver posts and backs for durability and security.
HinsonGayle's luxurious signature gift box includes a Thank You message for the recipient(see image), and a cloth pouch to store and protect these HinsonGayle handpicked pearls for generations.
Free Shipping & Returns
We take the risk out of buying pearls online – free shipping both ways. Try it on and love it – if not, return it free. HinsonGayle has partnered with Fulfillment By Amazon to provide fast, reliable and affordable shipping options. All orders come with free 2-3 day shipping. You may select 1-2 day shipping for an additional fee. We cannot guarantee overnight delivery as shipping & delivery is dependent on what time of day the order is received and whether it is placed on a week day or weekend. Generally if it is placed before 10am EST, and on a weekday, 1-2 day shipping often arrives the following business day. Unfortunately we do not have control over this process.
Product Reviews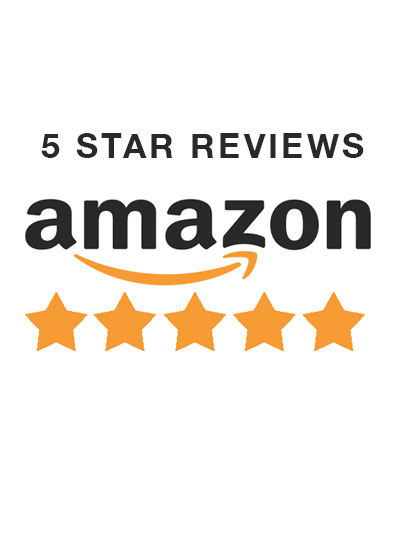 5 Star Quality
Since 2008 HinsonGayle has maintained an almost perfect 5-star seller rating with 2,600+ reviews on Amazon. Our entire product line consistently has product ratings between 4 and 5 stars.
We're proud to offer our pearl catalog and the same level of customer care here on HinsonGayle.com - Enjoy your shopping experience and let us know if you have any questions!
LEARN MORE
Customer service was prompt and went above and beyond to guarantee I was pleased with the product. - Amy R. (12/7/15)