Pink 10-11mm Baroque Freshwater Cultured Pearl Stud Earrings 14K White Gold (AAA Gem)
Pink 10-11mm Baroque Freshwater Cultured Pearl Stud Earrings 14K White Gold (AAA Gem)
Product Description
Purposely created for the woman who never wants to be seen in jewelry that someone else is wearing! These unique, one-of-a-kind pearl stud earrings are crafted from premium AAA free-form baroque cultured freshwater pearls mounted on solid 14K gold posts. The gorgeous naturally pink pearl stud earrings were hand selected for their mirror-like luster and blemish-free surfaces. The naturally shaped free-form baroque pearls have an intense surface iridescence (aka orient); their reflective surfaces casts hints of aubergine, rose and green hues as they are turned when viewed in natural sunlight. The pearls were selected for their enchanting naturally pink colors that exhibit lovely peach to pink overtones. Their coloring is 100% natural and they have not been dyed or color treated. Free-form baroque pearls are 100% pearl nacre and do not have a bead nucleus inside; their irregular shapes formed naturally in the shell. Each pearl is completely unique in shape and form, creating an aura of sophistication for each of these one-of-a-kind pearl pairs. Even though each pearl is completely different, they are painstakingly hand paired to complement each other. HinsonGayle's Gem Collection AAA-grade pearls represent the very top of the free-form baroque pearl harvest and are unmatched in all pearl characteristics. They are appropriate for women and teenagers, but are considered too large for young girls. Naturally pink pearls are perfect for day and night and their unique color makes them a very versatile addition to your jewelry collection; pink pearls pair especially well with black, browns, grays and other dark colors in your wardrobe. They also pair well with spring and summer colors. NOTE: Since no two pearls are alike, the pair you receive will not look like any of the pairs shown in the images, but it is guaranteed to be an exceptional one-of-a-kind pair of pearls!
Selecting the Perfect Pearls
SIZE
Freshwater Cultured pearls range in size from 6.0mm up to 12.0mm, with the most popular sizes being 6.0-7.0mm, 7.0-8.0mm and 8.0-9.0mm. Generally, the smaller sized 6.0-7.0mm are perfect for petite ladies, teens and girls over 8 years old, while the 7.0-8.0mm and larger sizes are an excellent and popular selection for women of all ages.
COLOR/OVERTONE
Freshwater Cultured pearls come in a continuum of natural colors. Ranging from white, pink, peachy-pink, and even rarer, lavender hues. Color-treated black freshwater cultured pearls are dark, multi-colored pearls that exhibit iridescent peacock colors.
LUSTER
The quality and quantity of light that is reflected from the surface, and just under the surface, of a pearl. Pearls with a high luster have more nacre and are generally more valuable. Both our AAA Handpicked and AAA Gem quality pearls display luster that is incredibly lustrous and "satiny". Our AAA Gem quality Cultured pearls will reflect light at a higher rate, and feature slightly sharper luster.
SURFACE QUALITY
Surface quality in freshwater cultured pearls is usually graded on an A-AAA grading scale. Our AAA Gem Collection and AAA Handpicked quality will display much less blemishing than the industry accepted norm of 5% blemishing on the surface. HinsonGayle classic round studs and strand surfaces are almost perfectly clean.
SHAPE
Pearls come in an infinite number of shapes. Generally the rounder the pearl the more valuable (assuming all other grading characteristics are the same). Our Classic Collection comes in round, near round, slightly off round, button, and oval shapes. Our Designer Collection showcases free-form baroque, keshi, coin and seed pearls.
MATCHING
Whenever a pearl is sold with other pearls, matching becomes an important value factor. Pearl are matched on color, luster, surface quality, size and shape. The pearls in classic studs and single strands should appear uniform on these value characteristics.
HinsonGayle Quality Grades

AAA Gem Collection
AAA Gem Collection Classic jewelry consists of rare, nearly perfectly round, ultra-premium pearls that exude the smoothest and cleanest surfaces with an incredibly high luster, brilliant iridescence, uniform in size, meticulously color-matched, and virtually flawless.
AAA Handpicked Collection
Graded at slightly below our AAA Gem Collection, this particular class still offers meticulous color and size matching, striking iridescence, naturally high luster and smooth surfaces — these round shaped pearls are classified as nearly round/slightly off round.
Handpicked
Exceptional value at HinsonGayle never means sacrificing quality. Our Handpicked Collection pearls are almost equal in luster, size, uniformity, and color matching as our AAA grade collections. Used in many of our fashion-forward designs, these pearls may exhibit very minor surface imperfections and are always stunning. Classic round pearl designs will be slightly off-round.
Thank You Gift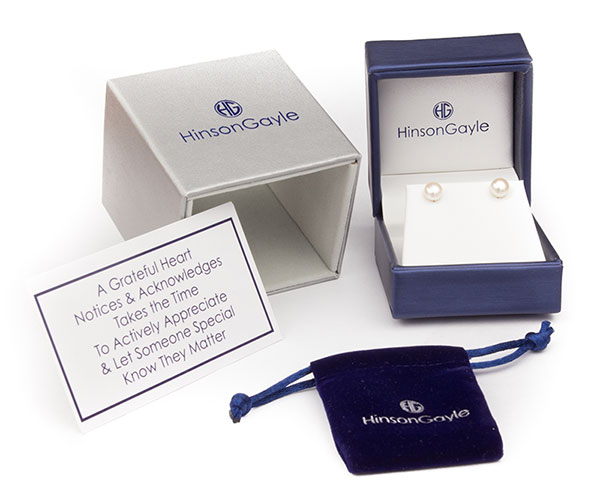 At HinsonGayle, we make an effort to genuinely recognize our customers, and promote a culture of gratitude. With the purchase of $100 or more, please accept these versatile 6-7mm white button stud earrings as a symbol of our appreciation.

And while it's more than OK to keep them for yourself, consider spreading the feeling of gratitude and use them to say "thank you" to someone in your life. Whether it's an acquaintance or loved one, our Gratitude Pearls are the perfect way to pay it forward and share the journey.
These reasonably priced 6-7mm beauties complete any look.
Round on the front and flatter on the sides, our White Pearl Button Studs add a touch of class to any occasion. The 6.0-7mm size is slightly smaller than our standard size 7.5-8.0mm, for a more delicate touch and versatile wear. Our button studs are high-luster and handcrafted with premium tarnish-resistant solid 925 sterling silver posts and backs for durability and security.
HinsonGayle's luxurious signature gift box includes a Thank You message for the recipient(see image), and a cloth pouch to store and protect these HinsonGayle handpicked pearls for generations.
Free Shipping & Returns
We take the risk out of buying pearls online – free shipping both ways. Try it on and love it – if not, return it free. HinsonGayle has partnered with Fulfillment By Amazon to provide fast, reliable and affordable shipping options. All orders come with free 2-3 day shipping. You may select 1-2 day shipping for an additional fee. We cannot guarantee overnight delivery as shipping & delivery is dependent on what time of day the order is received and whether it is placed on a week day or weekend. Generally if it is placed before 10am EST, and on a weekday, 1-2 day shipping often arrives the following business day. Unfortunately we do not have control over this process.
Product Reviews
You May Also Like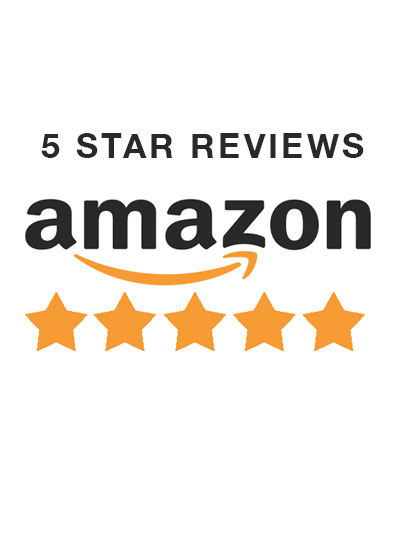 5 Star Quality
Since 2008 HinsonGayle has maintained an almost perfect 5-star seller rating with 2,600+ reviews on Amazon. Our entire product line consistently has product ratings between 4 and 5 stars.
We're proud to offer our pearl catalog and the same level of customer care here on HinsonGayle.com - Enjoy your shopping experience and let us know if you have any questions!
LEARN MORE
Customer service was prompt and went above and beyond to guarantee I was pleased with the product. - Amy R. (12/7/15)